Published: 30 October 2020

30 October 2020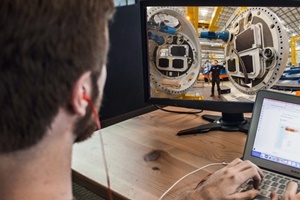 During the manufacturing evaluation, TÜV NORD inspects the manufacturing process and the produced components of a wind turbine, such as rotor blades, gearboxes or the tubular steel towers. This quality verification must be renewed every five years by on-site inspections. Normally this is done onsite but the company now also performs the inspection remotely.
The first stage of the remote inspection, in which the TÜV NORD wind energy experts discuss the procedure with the customer and review documents, takes place via conference software. For the subsequent stage, the inspection of the manufacturing site, the experts use an inspection tool.
While the expert is sitting in front of a screen, employees of the manufacturer or local TÜV NORD experts guide through the manufacturing hall - equipped with a smartphone, power bank and headset. The inspector gives concrete instructions on where to go and what to see.
Manufacturing evaluation is part of all current certification guidelines for the qualification of wind turbines. TÜV NORD uses the possibilities of remote inspection based on the existing regulations of the International Electrotechnical Commission Renewable Energy (IECRE), the International Accreditation Forum (IAF), and the German Accreditation Body (DAkkS). Depending on the component type, remote inspections are performed additionally to on-site inspections.