Published: 12 February 2021

12 February 2021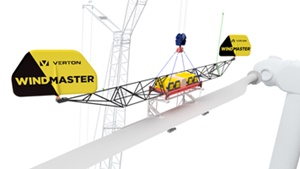 The Crosby Group, a global company active in lifting, rigging, and load securement hardware, has announced that it has completed an investment in Verton Technologies.
Australian-based Verton has developed and commercialised advancements in load orientation technology that remove the need for human held tag lines in lifting applications. The Crosby Group and Verton will collaborate in the market to accelerate the adoption of this load orientation technology. Verton's solutions include
Windmaster
, a load orientation device for wind turbine erection, Everest 6, a 20-ton load orienting spreader beam and Everest 30, a modular load orienting system for a broad range of working load limits.