Published: 05 August 2015

05 August 2015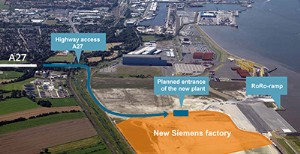 Siemens is investing around €200 million to build a production facility for offshore wind turbine components in Germany. The factory is to manufacture nacelles for the company's 7MW class wind turbines.
The new factory in will create up to 1,000 new jobs. The planned production facility will have a surface area of 170,000 square meters and will be located directly at the edge of Cuxhaven's harbor. The new factory will handle the final assembly of generators, hubs and nacelle back-ends, which are all connected to form complete nacelles. The groundbreaking is scheduled to take place later this year, with production of the first components to begin in mid-2017. In addition to the new facility in Cuxhaven, Siemens is also currently constructing a plant for rotor blades in Hull, UK, for six- and seven-megawatt-class wind turbines. This plant is also scheduled to be fully operational in 2017.