Published: 29 June 2023

29 June 2023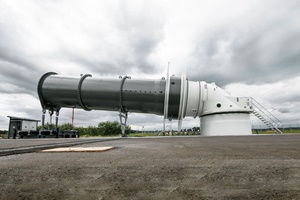 Liebherr-Components has constructed a new main bearing test bench at its site in Biberach an der Riss, Germany. The new and larger main bearing test bench enables the company to test bearings with a diameter of up to six meters.
The new main bearing test bench has a maximum electrical drive power of 300 kW and a maximum bearing speed of 15 rpm. This allows it to accommodate an impressive test weight of up to 125 tons. The test bench is used to carry out a variety of tests, including functional testing of the bearing, checking the lubrication and sealing system and recording the bearing frictional torques as a function of load and operating constellations. Part of the test programme is also the determination of the total bearing service life under specific operating conditions, as well as the bearing heat balance for various operating points.