Published: 31 August 2022

31 August 2022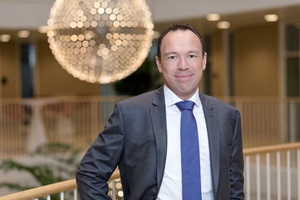 Hempel has announced that Michael Hansen will succeed Lars Petersson as Group President and CEO of the company. Michael will step into his new position on 15 October 2022.
Michael Hansen joined Hempel in May 2017 as Chief Commercial Officer and today, Michael is part of the Executive Group Management as Executive Vice President, Energy & Infrastructure. Michael Hansen holds a degree from Copenhagen Business School, as well as an Executive MBA from IE Business School in Madrid, Spain. Prior to joining Hempel, Michael Hansen worked 19 years for Maersk. Lars Petersson takes on the position of President and CEO of VELUX Group on 1 November 2022.
Related Articles
Hempel has announced the launch of HEMPADUR 47300, a new epoxy mid-coat that can reduce drying times for offshore wind tower manufacturers by up to 25 per cent.   Specially formulated for offshore win ...Windtech International - Windtech International is the worldwide information magazine for the wind energy industry. It provides the ideal forum for the promotion and explanation of new products, techniques and applications. This trusted and well-respected source of information is read regularly by an increasing readership

Hempel has introduced a new anti-corrosive coating with a drying time of just 60 minutes at 20°C (50 %RH). Hemperea DTM 55973 can be applied directly to metal and is suitable for C3 corrosive enviro ...Windtech International - Windtech International is the worldwide information magazine for the wind energy industry. It provides the ideal forum for the promotion and explanation of new products, techniques and applications. This trusted and well-respected source of information is read regularly by an increasing readership

The Ultra-High Solids and Speed system (UHSS), a two-coat protective paint system for onshore wind turbines produced by Hempel, was granted a patent from the European Patent Office. UHSS uses two hi ...Windtech International - Windtech International is the worldwide information magazine for the wind energy industry. It provides the ideal forum for the promotion and explanation of new products, techniques and applications. This trusted and well-respected source of information is read regularly by an increasing readership

Hempel has launched a new solvent-free version of the product, called Hempadur Multi-Strength 35460, developed specifically for splash zone protection of offshore steel structures. The new coating o ...Windtech International - Windtech International is the worldwide information magazine for the wind energy industry. It provides the ideal forum for the promotion and explanation of new products, techniques and applications. This trusted and well-respected source of information is read regularly by an increasing readership