Published: 27 June 2017

27 June 2017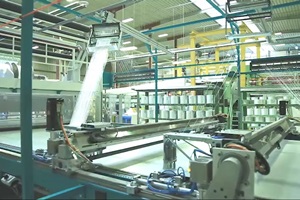 Metyx Group has just concluded a 'multi-machinery' deal with Karl Mayer Technische Textilien for the supply of new warp knitting production lines to provide 12,000 metric tonnes of additional glass and carbon fibre multiaxial fabric knitting capacity. The new capacity will increase production both in Turkey, further expanding its main factory at Manisa, as well as for additional overseas manufacturing facilities as part of a multinational strategic growth plan.
The wind energy sector is a key strategic market for Metyx Group, which in recent years has already made large capital investments as part of an ongoing long-term programme of key strategic investments in production facilities for technical textiles and composites-related products to serve this sector and other key composites markets needing technical fabrics. This latest capital investment decision by Metyx Group for its Composites Technical Fabrics division is to ensure that the group can continue to meet the needs of its wind energy OEM customers both globally and locally ahead of imminent new national legislation changes in Turkey regarding the local supply of materials.