Published: 29 December 2017

29 December 2017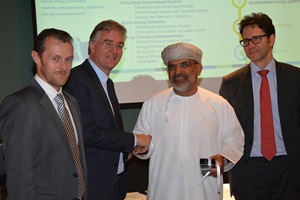 On 12 December 2017, the newly established subsidiary Lahmeyer and Tractebel Engineering Consultancy LLC in the Sultanate of Oman hosted an inauguration event for its opening. The company is a joint venture with the Al-Sulaimi Group. The newly formed local company is established to be a more local partner to its clients in the Sultanate of Oman as well as in the greater region.
The projects cover a broad range of different activities in the energy, water and infrastructure sectors, including for example master planning for the country's power generation and transmission through 2030, technical advisory as well as owner's engineer services for various independent power plants and wind projects, including grid connection studies. Tractebel and its subsidiary Lahmeyer formed a dedicated team of employees to work on a broad range of different business activities. The organisation includes the new subsidiary in Muscat, Oman, as well as subsidiaries and offices in Dubai, Riyadh, Al-Khobar, Doha and Abu Dhabi.
Related Articles
Northern Power Systems Corp. is developing along with its Brazilian partner WEG a new 3.3MW wind turbine.   The 3.3MW turbine development is part of an agreement between WEG and Tractebel Energia, a c ...Windtech International - Windtech International is the worldwide information magazine for the wind energy industry. It provides the ideal forum for the promotion and explanation of new products, techniques and applications. This trusted and well-respected source of information is read regularly by an increasing readership

Siemens Energy has received an order to deliver 63 of its SWT-2.3-101 wind turbines for five wind power plants in Brazil. The wind turbines have a rating of 2.3MW and a rotor diameter of 101 meters. ...Windtech International - Windtech International is the worldwide information magazine for the wind energy industry. It provides the ideal forum for the promotion and explanation of new products, techniques and applications. This trusted and well-respected source of information is read regularly by an increasing readership

A Future Market for Turbines from Repowering ProjectsIn Central Europe an increasing number of used wind turbines are becoming available at attractive prices following repowering projects. In Europe ...Windtech International - Windtech International is the worldwide information magazine for the wind energy industry. It provides the ideal forum for the promotion and explanation of new products, techniques and applications. This trusted and well-respected source of information is read regularly by an increasing readership