Published: 31 October 2022

31 October 2022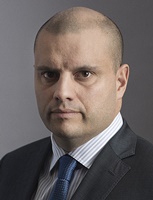 Enterprize Energy has announced with immediate effect the appointment of Jérôme Guillet to the Board. Guillet was a founder of Green Giraffe in 2010, serving as Managing Director from 2010 to 2021.
Guillet graduated from the Ecole Polytechnique ParisTech and holds a Ph.D. in Economics from the EHESS in Paris. Before creating Green Giraffe, he worked in the energy project finance teams of Crédit Lyonnais (1996–2002) and Dexia (2002–2010).