Published: 08 June 2018

08 June 2018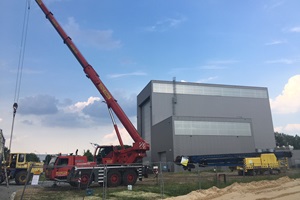 Work recently got under way on Fraunhofer IWES's latest construction project with digging a hole for the heavy-duty foundations of a 250 m2 hall in the direct vicinity of IWES´s nacelle test bench. The new test stand for minimal systems – comprising a high-speed generator and converter system – is set to open there in spring 2019.
The aim of its use is accelerated electrical certification testing of wind energy turbines at considerably lower costs than those associated with the testing of a complete nacelle.
The testing of minimal systems for certification of the electrical system on its own requires high speeds and a low torque. The test structure will be equipped with a 9MW drive unit (max. 13MW in overload) for the reproduction of realistic generator moments using the hardware-in-the-loop (HiL) method. In parallel to the construction of the building, a testing method is also being developed. Its objective is to perform electrical certifications of systems up to 6-7MW with two- to three-stage gearboxes completely in the laboratory. Project partners Senvion, Nordex, and Vestas will be the first to test out their minimal systems using the new test structure in 2019. In order to compare and evaluate the results from the laboratory tests, they will also be providing operating data obtained in the field. Each partner is then supplied with only his results for validation purposes. The test facility is being financed in the scope of the HilGridCop project funded by the German Federal Ministry for Economics Affairs and Energy (BMWi).