Published: 13 December 2017

13 December 2017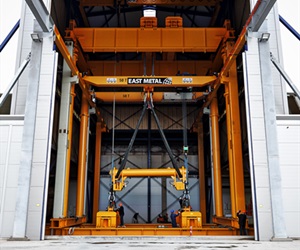 In a room the size of a seven story building is a construction with a very large work area. Four enormous hydraulic cylinders that can be expanded, ensures the load torque. The test center is East Metal Nakskov's latest investment and is designed to test the tensile and impact strength (pulling tests) of structures where safety and quality are not up for discussion.
Such a mechanical test is performed in many industries, such as the wind turbine industry, crane and lifting gear, in aerospace and automotive industries, offshore and construction industries. East Metal has a close cooperation with the Danish machinery industry and the larger and larger machines (think about the increasing sizes of wind turbines) obviously requires that larger structures must be tested adequately before commissioning. East Metal's test center has the ability to test subjects with up to 1500 t (15,000 kN). The investment has been supported by the EU Structural Funds for Regional Development 2007-2013, who co-financed the establishment of the production facilities - including tensile test center. The test center is now ready for service, after construction was completed in September 2017 and the calibration and commissioning phase has been satisfactory.