Published: 17 November 2022

17 November 2022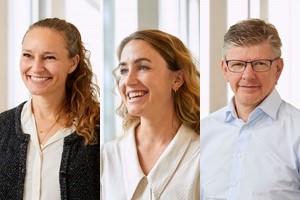 Cadeler has strengthened its senior management team with three new members, growing from four to seven members. The new members are Pernille Korsager, Carina Cappelen and Peter Kragh Jacobsen.
Pernille Korsager joined Cadeler in May 2022 as General Counsel. She comes from a position as Chief Legal Counsel with Maersk Drilling and has had a long career in senior legal positions with a broad portfolio of skills in corporate and commercial law.
Carina Cappelen has joined the company 1 November 2022 as Chief People & Culture Officer (CPCO). She comes from a role as Head of People and Culture in Maersk Mc-Kinney Møller Center for Zero Carbon Shipping.
Peter Kragh Jacobsen joined the company in September 2021 were he was responsible for leading the company's newbuild vessel program. He has been promoted to Chief Technical Officer in July 2022. Peter has a long career within the Maersk organisation where he functioned as Chief Technical Officer and Head of Projects and Newbuildings.