Published: 20 February 2020

20 February 2020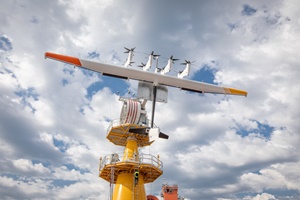 Makani was founded in 2006 by a group of kitesurfers who were curious about the potential for kites to unlock wind energy in more places around the globe. Makani spent the past seven years at Alphabet, during which time the echnology advanced from a 20kW demonstrator kite, to a utility-scale kite capable of generating 600kW.
Last year, after leaving X to become an independent business, the focus shifted to becoming commercially viable and with the support of Shell, the company was able to demonstrate the first flights of a utility-scale energy kite system from a floating platform off the coast of Norway. Fort Felker, CEO of Makani stated: Despite strong technical progress, the road to commercialisation is longer and riskier than hoped, so from today Makani's time at Alphabet is coming to an end. This doesn't mean the end of the road for the technology Makani developed, but it does mean that Makani will no longer be an Alphabet company. Shell is exploring options to continue developing Makani's technology.