Published: 14 May 2015

14 May 2015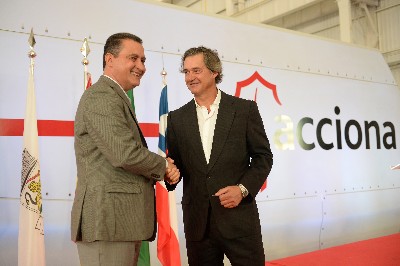 Acciona Windpower has opened a turbine assembly plant at Simões Filho (Bahia, Brazil) which is already producing all the 3MW machines for the Brazilian market.
The opening ceremony was presided by the Governor of Bahia, Rui Costa dos Santos, who was accompanied by State Secretary for Industry, Trade and Mines, James Correia. Acciona was represented by Group President José Manuel Entrecanales, the CEO of the Energy Division, Rafael Mateo, and the Executive Director of Acciona Windpower, José Luis Blanco, together with senior managers in Brazil. The Simões Filho plant has a production capacity of 100 turbines per year (300MW), which can be increased to 200 units (600MW) depending on demand. The facility has created 150 direct jobs and around another 500 indirect jobs.