Published: 10 May 2016

10 May 2016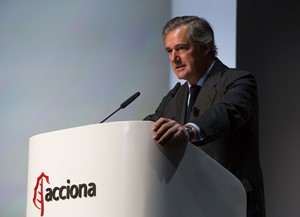 Acciona President José Manuel Entrecanales stated during the General Meeting of Shareholders on 10 May 2016 that the company shares the objectives of COP21 and their business plan envisages investments in renewable of more than € 2 billion up to 2020. Renewables are already the fastest-growing form of electricity generation and show that they are increasingly competitive against conventional technologies, he said.
In his speech, Mr. Entrecanales pointed out that the 200-odd signatory countries to the Paris agreements made a commitment to cooperate actively and immediately in de-carbonising the economy. This will mean, among other things, "that Europe and Spain need to carry out an in-depth review of the legislative framework for renewable energy sources to ensure that conditions are suitably stable and attractive for investment to return to the sector. This would basically involve modifying the design of the market to allow the full participation of renewables in all services, renewing financial support systems to attract investment and, at the same time, avoid measures that over-protect fossil fuel-based installations or distort competition. Also necessary is the creation of efficient mechanisms to allocate prices to CO2 emissions, he said. Acciona's energy division ended 2015 with 40% of its electricity generation outside Spain, a total accumulated capacity of 8,619MW and revenues of € 2,719 million (+24%).