Published: 30 September 2011

30 September 2011
Worldwide Wind Measurement with Turnkey Meteo Towers up to 140 Metres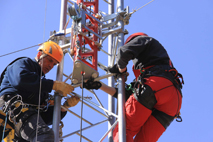 Wherever the installation of a wind turbine or an entire wind farm is planned, precise information about the area's wind potential is imperative, not only in order to choose the most suitable turbines but also to calculate the expected energy yield as accurately as possible. Since the amount of energy generated by wind rises with the third square of the wind's speed, even minor mistakes in estimating this speed have an extreme effect on the actual yield. Exact wind measurement directly on site may be the only answer. This is the speciality of Ge:Net GmbH from Clausthal, Germany.
By Johannes Lange, Ge:Net, Germany

Want to read full articles? Sign up free of charge and login and read the full text of published articles on our website.