Articles
Published: 15 March 2022

15 March 2022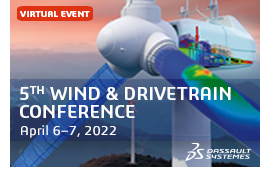 Join your peers in Wind Energy on April 6–7, 2022, during the 5th Wind & Drivetrain Conference, a free online event that focuses entirely on wind turbines and drivetrains. The agenda is now available on the event website.
This two-day global conference, hosted by Dassault Systèmes, is for everyone within the wind turbine and drivetrain industries who wants to learn about the latest modeling and cutting-edge simulation technologies, bringing together leading experts from industry and Dassault Systèmes.
Join us to see and hear presentations from GE Renewable Energy, Goldwind, ZF Wind Power, German Aerospace Center (DLR), and many more, covering topics on general engineering of wind turbines, drivetrains, rotor blades, aerodynamics, noise, and manufacturing.
Dassault Systèmes software enables users to optimize their products from concept designs through manufacturing and all the way to decommissioning and recycling — in essence bringing down the Cost-of-Energy.
Participation is free of charge but registration is required for each day.