Articles
Published: 24 March 2022

24 March 2022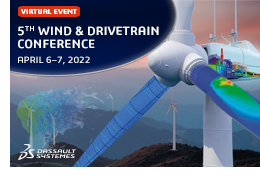 Join your peers in Wind Energy on April 6–7, 2022, during the
5th Wind & Drivetrain Conference
, a free online event that focuses entirely on wind turbines and drivetrains.
This two-day global conference, hosted by Dassault Systèmes, is for everyone within the wind turbine and drivetrain industries who wants to learn about the latest modeling and cutting-edge simulation technologies.
Industry Presentation Highlights:
GE Renewable Energy, Colin SCHWARZ:
Simulation-Based Wind Turbine Gearbox Tonality Analysis and Risk Assessment
Goldwind, Zhiliang XU:
Wind Turbine MBS Simulations with Simpack
ZF Wind Power, Ben MARRANT:
An Automated Simulation Approach of Drive Trains towards Tonality Free Wind
German Aerospace Center (DLR), Benedikt MICHELS:
VAST as Simpack User Routine for Wind Turbine Aerodynamics
and many more...
Speakers from Dassault Systèmes will demonstrate the game-changing power of using modeling, simulation and design optimization focusing on capabilities in Simpack, Abaqus, PowerFLOW, Opera, Tosca, and more.

Participation is free of charge with registration required for each day. View the updated agenda on the event website.