Articles
Published: 09 March 2022

09 March 2022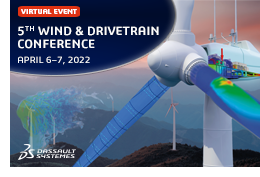 Join your peers in Wind Energy April 6–7, 2022, during the
5th Wind & Drivetrain Conference
, an online event that focuses entirely on wind turbines and drivetrains.
This two-day global event, hosted by Dassault Systèmes, is for everyone within the wind turbine and drivetrain industries who wants to learn about the latest modeling and cutting-edge simulation technologies. The conference brings together leading experts from industry and Dassault Systèmes. Our speakers will present the latest technology for wind turbine engineering, including multibody system simulation, structural analysis, computational fluid dynamics, and manufacturing.
Dassault Systèmes software enables users to optimize their products from concept designs through manufacturing and all the way to decommissioning and recycling — in essence bringing down the Cost-of-Energy.
Discover the presenters from leading industry companies and academic institutions on the event website.