Articles
Published: 30 March 2020

30 March 2020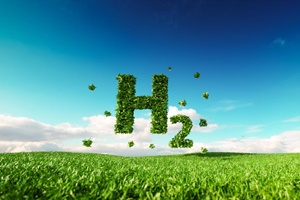 Wind energy has gone from being a niche to a mainstream energy source, providing 15% of the European Union's electricity demand in 2019 and already becoming the third largest energy source in China. To speed up the global energy transition and to support major energy companies and oil and gas giants in meeting their carbon neutral target, the next step is not only to focus on new solutions that can support system integration, bringing more renewable generated electricity into the grid, but also to explore existing solutions like hydrogen that can work together with renewables to decarbonise sectors where direct electrification cannot easily be achieved.
To achieve this, the single renewable energy technology mindset needs to be replaced with a systems approach and cross-industrial collaboration aimed at fighting climate change. One of the major innovations that can help support this new phase of renewables development to achieve our climate goals is green hydrogen.
Green Hydrogen – Opening New Doors to Decarbonise Our Energy System
Hydrogen has been a 'hot topic' in the energy sector over the past few years, and it is certainly now living up to the hype. Historically, hydrogen has been mainly produced by the steam reforming method called 'grey hydrogen', which emits a large amount of greenhouse gases. This method was then combined with carbon capture and storage technology in what is known as 'blue hydrogen'.
Now, we are seeing more and more interest in 'green hydrogen', which is produced from the electrolysis of water using renewable energy, which undoubtedly has a much smaller carbon footprint. Through this method, hydrogen can act as a storage option for renewables, able to store a large amount of electricity over days, weeks and even months and able to be transported over long distances. This can support greater energy security as it can provide flexible and dispatchable power to complement wind and solar in the power system while reducing curtailment.
Additionally, green hydrogen can be used as a low-carbon fuel across sectors such as long-haul transport, chemicals, and carbon-intensive sectors such as iron and steel, all of which cannot necessarily be electrified as they are extremely energy intensive.
Offshore Wind-To-Hydrogen – The Next Big Thing in Clean Energy
Considering that green hydrogen needs both large amounts of water and renewable energy, using offshore wind to achieve this is truly a no-brainer. Offshore wind is already one of the most cost-competitive energy sources available in many mature markets, and combining the scale and technological innovation of the offshore sector with hydrogen is therefore a natural step to produce more green hydrogen and bring down costs.
Currently, there are two main offshore wind-to-hydrogen solutions. The first solution is using surplus offshore wind energy that would otherwise be curtailed and using purpose-built offshore wind to power the electrolysers that will split water molecules into hydrogen and oxygen. The green hydrogen is then compressed and stored in a tank system, where it can be shipped by boat to shore. However, as marine shipping is still quite expensive today, power electrolysers can be deployed onshore so that the green hydrogen can be transported directly with purpose-built hydrogen pipelines or trucks to bring down costs.
The second solution uses excess offshore wind energy to power electrolysers located on top of oil and gas platforms to produce hydrogen, but the green hydrogen will be commingled with natural gas in existing gas pipelines to the end users. This solution is already being adopted by industrial gas producers to supply chemical and refining industries. While blending hydrogen with natural gas is not a 100% clean solution, it is win-win as existing infrastructure can be used and can already contribute to decarbonising the gas industry.
Bringing Down Costs to Take Green Hydrogen Global
From its first small-scale renewable hydrogen production facility in the National Renewable Energy Laboratory's National Wind Technology Center in March 2007, wind-to-hydrogen has taken off in Europe and Australia. However, to bring green hydrogen to more markets across the world, costs will need to be brought down.
In 2019, green hydrogen costs varied between US$ 2.50 and US$ 4.50 per kilogram, depending mostly on the cost of the electrolyser according to BloombergNEF. The price will need to fall below US$ 2 in order to make green hydrogen competitive with coal and to US$ 0.6 to compete with grey hydrogen.
According to the International Energy Agency, the cost of producing green hydrogen could fall by up to 30% due to the declining costs of renewables and the scaling up of hydrogen production. In order for green hydrogen to de deployed more widely and contribute to the global energy transition, we will need to scale-up green hydrogen projects and manufacturing to achieve cost reductions and ensure the economic viability of this power source in our energy systems.
With more and more offshore wind developers, oil and gas companies, research centres as well as governments now increasing their green hydrogen ambitions, we see this technology playing a key role in decarbonising the energy sector and beyond.