Windtech Future
Published: 09 April 2018

09 April 2018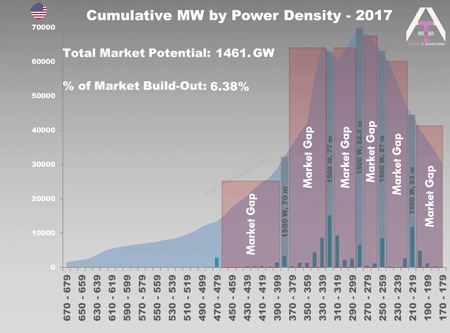 The wind market in the USA has seen tremendous growth in recent years, but the market has seen separation between OEMs GE, Vestas and Siemens Gamesa Renewable Energy (SGRE) from the rest of the pack. A key factor which has enabled the success of these three OEMs is the diversity of their product portfolio to serve almost any power density.
By Philip Totaro, CEO, IntelStor


Looking at the cumulative market share in the US market broken down by OEM, clear patterns have emerged. For each OEM, there are particular products out of their total installations in the US market which have been favoured and see higher sales. While the product portfolios of the top three OEMs in the USA have centred around standard IEC wind class products, GE, SGRE and Vestas have also seen a broader diversity of sales thanks to ancillary products which lie in between conventional wind classes.

GE saw tremendous capacity additions around its 1.5SLE (77m rotor) because it fits the classic IEC Class II, with a total of 35.6% of all its turbines installed in the USA in the 320–329W/m2 power density range. Vestas has now been seeing a significant sales increase in IEC Class III with the V110 2.0 at around 210W/m2, but it has also secured sales from the V110 2.2 at around 250W/m2. The company appears poised to see higher 3.XMW and eventually 4.XMW sales too.

SGRE has benefitted recently from SWT2.3-108 platform sales as well as some legacy Gamesa 2.0MW products. Nordex/Acciona has notably taken over fourth place in annual capacity additions and also cumulative capacity, having now overtaken Suzlon with its 806MW tally in 2017. Watch for it to bring the N149 product family to the US market in the near future.

But there are several segments of the US market which have been under exploited, such as a power density range of 230–239W/m2, which has seen virtually no capacity up through 2017. Enhanced product diversity and mix would allow companies to take advantage of more than 120GW of such market potential.

This product diversity manifests itself in a wide array of products covering the full spectrum of power density ranges. Maximum leverage is achieved when a wide array of turbine products is combined with a modular product architecture.

This modular architecture includes the reuse of key components such as the gearbox, generator and converter subcomponents on a wider spectrum of turbines, versus a single turbine. This component reuse provides an OEM the opportunity to leverage more supply chain cost efficiencies. Additionally, blade capex investment per turbine model can be justified due to wider market specific sales or global sales through export from a primary market.

It is also noteworthy that Nordex/Acciona has begun to employ this same design strategy with its N149 4.0–4.5MW, but it has not yet extended this to other 3.X or 4.X products.

Conversely, GE already has a wide product diversity coving the entire power density spectrum from 180–390W/m2, but it is hampered by higher capex investments, which necessitate higher turbine pricing and lower margins versus competitors who have changed their portfolio.