Windtech Future
Published: 03 October 2016

03 October 2016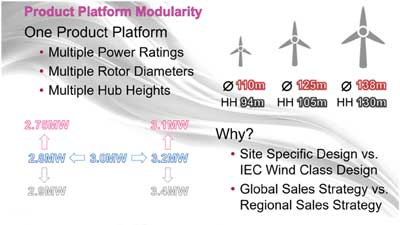 A primary constraint of global expansion for many wind turbine OEMs is the ability to achieve scale through global sales volume. But the shift towards a common platform architecture and wind turbine products that are designed for global markets will open up more export market opportunities. This also protects against regional fluctuations in demand and provides an offset to currency depreciation.
By Philip Totaro, CEO, IntelStor
One good example of this is Brazil. The country's recent currency devaluation has made this market extremely attractive to be a component export manufacturing hub similar to India or China. The local content requirements in order to qualify for the preferred financing rates from the Brazilian development bank BNDES have resulted in six OEMs and a diverse manufacturing base and robust supply chain.
However, with annual market capacity additions of 2–3GW, this is typically an insufficient capacity to support full rate production from all six OEMs. This type of regional market fluctuation diminishes the return on CAPEX investment made to comply with the local content requirements and base manufacturing operations in Brazil.
Further complicating the ability of many OEMs to capitalise on the export market potential in Brazil is that most OEMs have only brought turbine designs and developed manufacturing tooling for a small number of turbine models which are specific to the local wind conditions in the country. Unless there are other countries with a similar wind regime, the potential for market export is limited.
But the wind industry now exists in the age of the common platform architecture. Companies who develop turbines using this approach are enabling a more globally diverse and competitive supply chain structure. This design philosophy allows for sub-component commonality and modularity in an effort to minimise the LCOE specifically by minimising CAPEX, O&M and logistics costs while increasing production volume.
More specifically, the common platform architecture approach uses blades, towers, generators, converters, gearboxes (if applicable) with as many of the same sub-components as possible. Making turbines with multiple power ratings, rotor sizes and hub heights with as much commonality of gears, bearings, IGBTs, etc. allows OEMs to:
increase sub-component order volume, which decreases per unit cost
improve availability of spares, which decreases O&M cost
enable diversified geographic manufacturing of components based on lowest CAPEX and an optimised minimum in logistics cost.
These key cost saving factors have driven many Tier 1 global OEMs to adopt this design philosophy. The ability to manufacture turbines which comprise essentially the same nacelle components anywhere in the world enables companies to take advantage of the fluctuating market conditions and currency devaluation.
Returning to Brazil, a market which presently has limited domestic market demand, relatively low input labour costs, a plethora of supply chain alternatives and, most importantly at the moment, a favourable currency trade, there has never been a better time to look at the country as an attractive export market.
As a result of adopting the common platform architecture design philosophy, the manufacturing tooling is able to support multiple products that are all part of one platform and can be sold in global markets, rather than a regionally specific product that only sees low rate production when the market demand dips.