Published: 24 November 2020

24 November 2020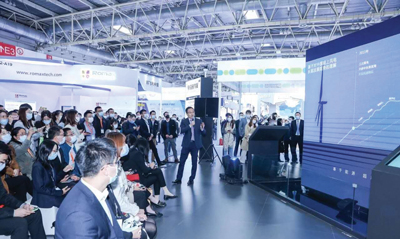 China Wind Power 2020 was held from 14 to 16 October at the China International Exhibition Center (New Venue) in Beijing. More than 400 companies presented at the exhibition, which attracted 40,000+ visitors during 2.5 exhibition days.
By Crystal Zhang, Beijing minds:connected Information Consulting, China
With the target to realise the goal of carbon neutralisation by 2060, at the opening ceremony of China Wind Power (CWP) 2020, representatives from the most important wind energy enterprises unanimously adopted and jointly issued the 'Wind Energy Beijing Declaration', which aims to comply with the latest requirements of the Chinese national strategy for climate change, to promote the high quality development of the wind power industry by promoting the formulation of more active industrial policies, and to lay a solid foundation for the green recovery of the global economy and the construction of a zero-carbon society in the post-pandemic era.
The following wind enterprises presented their latest products and achievements at CWP2020: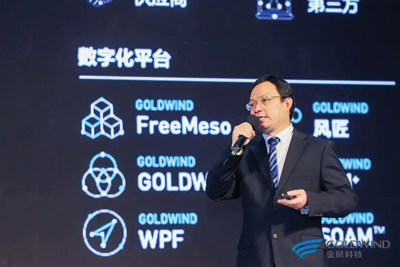 Goldwind
Goldwind released three new models of onshore wind turbines: the new generation of direct-drive permanent magnet platform GP21 and its series of high performance flagship products, including the GW165-3.6MW and GW165-4.0MW direct-drive permanent magnet wind turbines for low and medium wind speed markets and the GW165-5.XMW direct-drive permanent magnet wind turbines for medium and high wind speed markets.
Mingyang
Mingyang released two new offshore and onshore products: the MySE6.25-173 and MySE11-203 semi-direct-drive onshore and offshore platforms, respectively. It is worth noting that 11MW is the largest offshore wind turbine in China, and 6.25MW is the largest onshore wind turbine in China. The MySE11-203 model released this time uses carbon fibre hybrid blades with a length of 99 metres and a turbine swept area of 32,365 square metres. It is the largest semi-direct-drive offshore wind turbine in the world. It is planned to set up a prototype in 2021 and begin commercial use in 2022.
Envision
Envision released three new onshore and offshore models: a new generation of the EN-171/5.5MW offshore model and the EN-161/3.45MW and EN-161/5.0MW onshore models.
Windey
Windey launched three new onshore wind power products: new large capacity wind turbine units WD147-4800 and WD156-4800 on the 4.XMW platform, as well as the WD175-5.X 5.XMW series units. The tower can provide up to 160+ metres new tower solutions and can provide rich customised solutions according to the characteristics and needs of the project, which has great cost competitive advantages.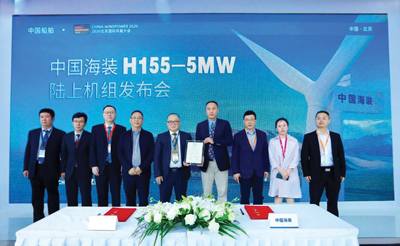 DEW
DEW released three new types of onshore and offshore wind turbines: the DEW-D5.5S-172 onshore, DEW-D6000-164 onshore and DEW-D7500-186 offshore wind turbines. The DEW-D5.5S-172 direct-drive permanent magnet wind turbine has been developed for medium and high onshore wind speed areas in China, the DEW-D6000-164 direct-drive permanent magnet wind turbine for offshore medium and high wind speed regions, and the DEW-D7500-186 direct-drive permanent magnet offshore anti-typhoon wind turbine for offshore low and medium wind speed areas.
Shanghai Electric
Shanghai Electric launched three new models and one digital wind farm design platform: the new WE4.55n-168 digital onshore model, the 'Synergy' WG5.55F-172 offshore turbine, the W6.5F-185 offshore turbine and the i-WINDSIGHT platform.
Guodian United Power
Guodian United Power launched two product platforms and 13 turbine models, which were certified by China Classification Society.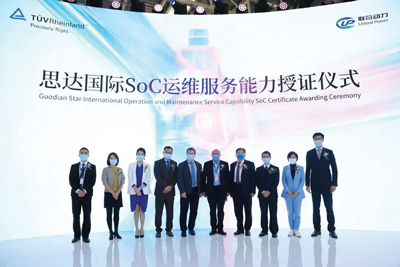 Haizhuang
China Haizhuang launched two new types of offshore and onshore wind turbines: the H155-5.0MW offshore wind turbines and the H160-3.XMW wind turbines.
CRRC Zhuzhou
CRRC Zhuzhou Institute released the 4.XMW series wind turbines, which provide a customised solution platform for medium and high wind speed regions and large base wind farms.
SANY
SANY launched two new onshore wind power products: the 4.XMW navigator platform and the 3.X turbine.
XEMC
XEMC launched a direct-drive permanent magnet offshore turbine of 6.X–8.XMW and released the application technology for the modular polygonal ultra-high concrete tower.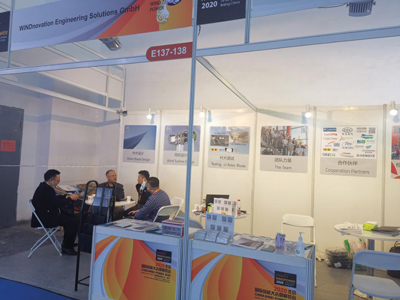 Vestas
Vestas released the V162-6.0MW onshore wind turbine and introduced this turbine to the Chinese market.
CRRC Yongji Electric
CRRC Yongji Electric launched the world's largest 12MW offshore wind turbine and 6MW onshore wind turbine.
Siemens Gamesa
Siemens Gamesa mainly introduced two new onshore models: SG 5.8-155 and SG 5.8-170.
Sinoma
Sinoma launched three blade types: the Sinoma85.6/8.XMW offshore blade, Sinoma76.5/3.3-4.5MW onshore blade and Sinoma85.8/5.XMW onshore blade.
WINDnovation
As one of the few international exhibitors, WINDnovation presented its large rotor blade developments like the WINDblade1260, which is 126 metres long. The European engineering team was connected to 'Talk Islands' at CWP2020 and available for detailed technical discussions. This 'half virtual' concept has strong potential for future fairs.
Conclusion
CWP2020 was a great success under strict COVID-19 control measures. It was the biggest wind event in 2020 worldwide since the outbreak of COVID-19. Within China, the industry and the wind people are as active as before and the industry is slowly returning to normal. Many visitors came to the show to seek some potential chances in the post-pandemic period. However, COVID-19 kept most foreign exhibitors and visitors out, which narrows the markets for both sides and blocks the exchange of ideas and demands to some extent.
At CWP2020, high performance and large wind turbines for on- and offshore use were presented, many of which were Chinese domestic designs. China is establishing itself as the worldwide leader in wind power utilisation and development.
Despite developing new turbines and building new wind farms, there is also a strong focus on the servicing of blades and turbines in the Chinese wind market as the post-market cake gets bigger day by day. The wind farm operators are looking for more efficient and cost-saving ways to maintain and protect their investment for long-term use.
Rotor blade recycling is also attracting more and more attention, although a reasonable method for this in terms of cost and efficiency is still not available. A trend to design rotor blades with materials which can be totally recycled is foreseen in China and overseas.
The global wind community is hoping to meet in post-COVID-19 times soon and looking forward to CWP2021.