Published: 23 April 2019

23 April 2019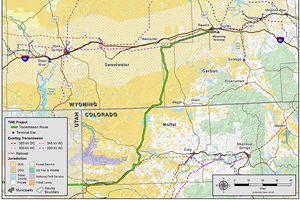 The State of Wyoming's Industrial Siting Council voted unanimously to approve TransWest Express' (TWE) application for a permit to construct and operate the TransWest Express Transmission Project. The 730-mile high-voltage transmission system extends from Wyoming to Nevada and will provide western electricity markets with access to energy generated in Wyoming, including wind energy resources.
The TWE Project Wyoming Terminal will be constructed within the Overland Trail Ranch, south of Rawlins and Sinclair, and will interconnect with the local power grid. The line then extends as a high-voltage direct current (HVDC) system to Millard County, Utah, where TransWest plans to build its Utah Terminal and to interconnect the TWE Project into the Intermountain Power transmission system. From Utah, the TWE Project then extends as a high-voltage alternating current (HVAC) system to southern Nevada near Hoover Dam, where the California, Nevada and Arizona grids also interconnect.
Altogether, the TWE Project provides an efficient path for western states to access high-quality, cost-effective, utility-scale quantities of geographically diverse renewable energy to help meet their state Renewable Portfolio Standard requirements and to complement local renewable resources.