Published: 20 May 2019

20 May 2019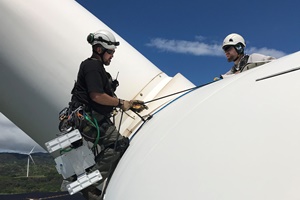 NRG Systems has announced the first commercial sale of its Bat Deterrent System to Kawailoa Wind, Hawaii's largest wind farm. Located on the island of Oahu, Kawailoa Wind will outfit each of its 30 turbines with a Bat Deterrent System.
The adoption of NRG's technology is part of Kawailoa Wind's ongoing efforts to help conserve the Hawaiian hoary bat, which has been on the United States' list of endangered species since 1970. Kawailoa Wind is currently curtailing, or turning off turbines in low wind speeds at night, when bats are most active, to minimize Hawaiian hoary bat fatalities. NRG's Bat Deterrent Systems are expected to be used in addition to curtailment in an effort to achieve even greater reductions in fatalities.