Published: 07 December 2015

07 December 2015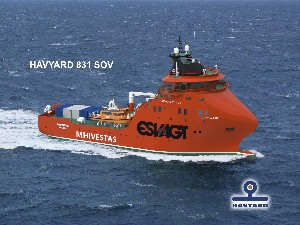 MHI Vestas Offshore Wind has signed a 10 year contract with Esvagt, for a purpose built service vessel to support technicians working on projects located up to 50 kilometres from the Belgian coast.
The technicians will work and live on the vessel for two week periods and the vessel will also function as a floating warehouse, storing spare parts and tools for servicing wind turbines offshore. The new vessel is 58.5 metres in length, with a beam of 16.6 metres and can support up to 22 technicians, all in single cabins. The vessel is prepared with dynamic positioning technology, and two safe transfer boats to transfer technicians, tools and spare parts to the turbines. For the past five years MHI Vestas technicians have used a refitted Esvagt vessel as service base to provide maintenance for the 165 MW Belwind 1 project, consisting of V90-3.0 MW turbines, with the upcoming installation of the 165 MW Nobelwind project in 2016 using V112-3.3 MW turbines, a new vessel was required as greater storage space and more cabins will be required for the increase in technicians, spare parts and tooling. The vessel will be delivered and commence service in the second half of 2017.