Published: 02 June 2020

02 June 2020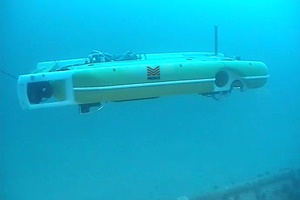 Modus Seabed Intervention has completed a high speed bathymetric and depth of burial survey of the inter array cable routes on the innogy operated Gwynt-y-Môr offshore wind farm, utilising the Modus HAUV-2 (Hybrid Autonomous Underwater Vehicle).
To execute the O&M depth of burial survey scope, Modus mobilised its HAUV-2 system, equipped with Optimal Ranging Orion Cable Tracking System and dual head R2Sonic 2024 Multibeam Echosounder, on the chartered DP2 vessel "Noordhoek Pathfinder". The Gwynt-y-Môr Offshore Wind Farm comprises 160 Siemens 3.6MW WTGs located approximately 8 miles from the North Wales coast in Liverpool Bay in water depths ranging between 12m and 28m. The WTG's are connected by 161 inter array cables which total circa 147km in length. Gwynt-y-Môr was the first complete OWF inter array survey performed by HAUV-2.