Published: 13 February 2023

13 February 2023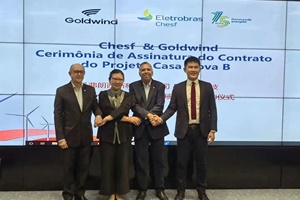 Goldwind has signed a contract with Brazil's state-owned utility company Chesf to provide wind turbines and solutions for the Casa Nova Phase II Project in Bahia.
Yan Yuqing, Consul General of China in Recife, Fabio Alves, President of Chesf, and Liang Xuan, General Manager of Goldwind South America attended the signing ceremony. Goldwind has supported Casa Nova Phase I project in terms of component supply and technical transformation back in 2019.