Published: 27 February 2020

27 February 2020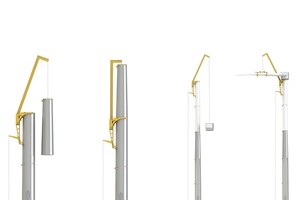 Liftra has announce that they have received an EUDP grant to develop a solution capable of erecting complete wind turbines without using large conventional cranes. The new solution (LT1500) will erect the tower and install both the nacelle and rotor.
With a flange design on the tower sections, the system can lift and climb the sections as they are installed, effectively erecting the full tower with no external lifting equipment (up to 250 meters). From the top of one tower section, it will lift up the next from the ground, mount it, and then continue the ascent. With the tower installed, the crane will hoist the nacelle, hub and blades in lifts up to 100 tons each. The concept builds on core principles and technologies from their Liftra Self-Hoisting Crane systems (LSHC).