Published: 01 April 2022

01 April 2022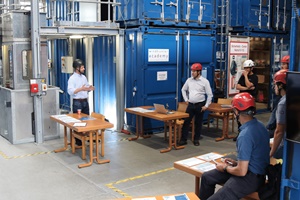 GWO has released new and updated standards. Taxonomy tool kit now integrated into all GWO training standards. The taxonomy establishes a transparent and coherent framework to describe safety training characteristics, allowing for a better understanding of "what good training looks like.
The taxonomy framework builds upon on multiple global qualification frameworks that focus on lifelong learning. Its aim is to ensure conformity and coherence between learning objectives in GWO training standards, and their related learning activities in trainings conducted by GWO training providers.
GWO also releases reviewed First Aid and Manual Handling modules. A GWO working group reviewed the training standard modules in multiple3 workshops and several online meetings between December 2021 and March 2022. The review comes in response to feedback from GWO members and to G+ data, showing that manual handling incidents are the single largest category of lost workday injuries, the majority of which are associated with musculoskeletal (back) injuries.
Further, GWO releases new Control of Hazardous Energies (COHE) training standard. The new standard focuses on risk management when working with or close to hazardous energies in the wind industry. In the Basic COHE safety Module, the new standard enables participants to manage risks, and act safely when working with or in the vicinity of hazardous energies. The next two modules focus on more specific risks regarding electrical safety of low voltage electricity and working with hydraulic and pressurized fluids.
GWO has added two more modules to its Lift Standard. The GWO Lift standard brings a coherent safety training framework for wind technicians working on installing, commissioning, and maintaining lifts in WTG towers. After releasing the first module of the Lift standard (Lift User) in April 2021, GWO is adding two more modules: Lift Commission and Inspection (LCI) and Lift Commission Inspection, Installation and Maintenance (LCIIM) in April 2022.