Published: 08 September 2022

08 September 2022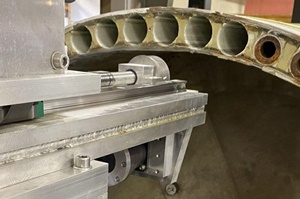 With its new portable tool developed to replace damaged inserts in blade roots, Danish company CNC Onsite now offers precision repairs carried out at the wind farm, eliminating transport costs as well as waiting times for a repair slot.
With CNC Onsite's method, the rotor blade is dismounted before it is placed in a repair environment at the wind farm. The portable, automatic machining tool aligned to the blade drills away the faulty inserts from the composite material. Ensuring the cavity matches the exact diameter and shape of the replacement part, an additional, precise drilling process is performed so that the new part can be inserted and then fastened using bonding material. CNC Onsite has teamed up with We4Ce, an international blade rotor and blade root connection company, to deliver a complete repair solution focused on high-strength blade roots. The new CNC Onsite blade root repair is estimated to take two to three days, depending on the number of faulty inserts. The full repair service is available from autumn 2022.