Published: 06 July 2016

06 July 2016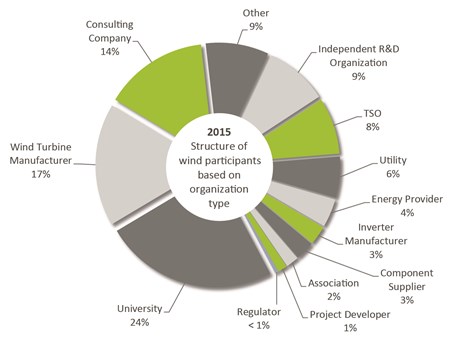 Workshop Double on Grid Integration of Wind and Solar Power
In November this year the grid integration community will meet in Vienna, Austria, for the annual Wind and Solar Integration Workshops. About 400 participants from wind and solar generator manufacturers, universities and research institutes, system operators and utilities, and consulting companies will review and discuss recent advances in technology and exchange ideas on how to jointly tackle the challenges of the coming years.
The workshops are looking back on a year-long history. Their main target is to stimulate interdisciplinary thinking between the renewable energy and power transmission industries as well as universities by providing a platform for discussion and for sharing ideas and knowledge regarding the key issues in the field of large-scale integration of wind and solar power.
Besides presentation and discussion sessions on a wide range of topics, this year the workshops will offer a tutorial on photovoltaic systems in smart grids, a study trip and social events (workshop dinner).
The importance of grid integration of variable renewables increases worldwide. As a result of the speed of renewable installation in many countries, power system operators have less and less time to thoroughly analyse and investigate the grid integration issues, and hence sharing worldwide experience from renewable grid integration is becoming more and more important.
History of the Workshops
In the autumn of 1999, two PhD students working at the Department of Electrical Power Systems at the Royal Institute of Technology, Stockholm, Sweden, spent many hours discussing the integration of wind power into power systems, and possible applications of high voltage direct current (HVDC) technology for offshore wind farms. It soon became clear that these topics would interest and require a wider audience, including experts from the wind industry. The result was the International Workshop on Feasibility of HVDC Transmission Networks for Offshore Wind Farms, organised at the Royal Institute of Technology in spring 2000. After three consecutive years in Sweden, the workshop organisation was moved to Energynautics of Germany and the workshop has since taken place in a different city each year. Now 16 years after it started, the Wind Integration Workshop has developed into one of the premier conferences in its field, and since 2011 it has been accompanied by the Solar Integration Workshop.
The Workshops in 2016
Nowadays, the scope of the Wind Integration Workshop covers all aspects relevant to large-scale integration of wind power into power systems. The Solar Integration Workshop will also include storage integration at this year's workshop. In 2016 both workshops will be held in Vienna, Austria (14–16 November). The 6th Solar Integration Workshop with a duration of one and a half days is followed by the 15th Wind Integration Workshop, also with a duration of one and a half days. Having started with only 52 participants from seven countries, the Wind Integration Workshop now attracts between 250 and 300 participants each year from around 30 countries and the Solar Integration Workshop between 150 and 180 participants from 25 countries. Figure 1 provides an overview of the organisational background of the participants.
Programme
Session and discussion topics include:
grid integration and design studies
grid and plant modelling aspects
grid integration technologies
market issues
weather forecasting
grid codes.
The Vienna programme will be published by the end of July.
Tutorial on PV Systems in Smart Grids
This year's tutorial offers a review of operation and smart grid integration of modern photovoltaic (PV) power plants. An overview of PV panel technology will provide a vision of the most important PV technologies currently installed by integrators. Inverters will be presented by describing both their hardware and their control structures. Integration of PV into the modern power systems will be discussed, including provision and coordination of ancillary services by PV plants on low and medium voltage networks. In a hands-on session, several live test cases will be performed on a large photovoltaic inverter. The tutorial will be offered by the Austrian Institute of Technology (AIT) from Vienna, in cooperation with AIT's Smart Electricity Systems and Technologies Laboratory (SmartEST) and the Department of Energy Technology at Aalborg University, Denmark.
Study Trip
This year's study trip on Friday 18 November 2016 will include a visit to the Austrian Power Grid (APG) control centre. Further stops will be at a biogas plant and a wind park in the Energy Park Bruck an der Leitha.
Further information on both workshops can be found on their websites:
http://www.solarintegrationworkshop.org
http://www.windintegrationworkshop.org