Published: 17 November 2022

17 November 2022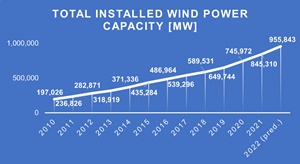 The World Wind Energy Association WWEA has gathered statistics on new wind power installations in the first six months of 2022. Based on a survey amongst WWEA's member associations from around the globe, WWEA has been able to publish an estimate of the global installations as of now and a prediction for the end of 2022.
While in the first half of 2021, 27,6 Gigawatt were added, the world installed 28,9 Gigawatt in the same period of 2022. This equals an annual growth rate of 13%, when comparing the total installed capacity end of June 2022 and end of June 2021. With this, the global installed capacity stood in June 2022 at 874 Gigawatt.
Additional momentum is expected in the second half of 2022. Accordingly and based on the estimations of our members, WWEA expects a total new capacity addition of at least 110 Gigawatt throughout the whole year 2022.
With this, the globally installed wind capacity will reach more than 955 Gigawatt by end of 2022 and will cross the threshold of 1 million Megawatt in the middle of 2023.
China will once more represent the lion's share with an expected installed capacity of 60 Gigawatt. Strong growth is also expected in other markets, including the US – although below 2021 levels, Spain as the most likely biggest European market in 2022 or in Brazil, the South American wind power leader.