Published: 07 September 2018

07 September 2018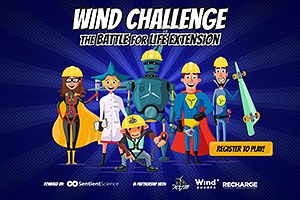 On 10 September, Sentient Science will launch the Wind Challenge – a wind turbine technology game that puts players at the heart of the battle for wind turbine life extension.
The
Wind Challenge
takes players to a fictitious wind farm in Greenland. The wind farm consists of various turbine types, all using different components and data sets. With these turbines facing serious issues, players must compete against one another to take actions that extend the lifetime of their turbines for the longest possible time and at the lowest possible cost. Each turbine in the fleet will get a Net Present Repair Cost (NPRC) at the end of the challenge: the winners will be those who manage to extend the turbine's life the longest, at the lowest NPRC.
The challenge is open to players from all around the world – making this a global battle for life extension. While the game is aimed at those in the O&M and supply chain community, it will also be accessible to all who have an interest in how digitalisation is revolutionising turbine technology. The Wind Challenge winners will be announced on 26 September at the Global Wind Summit in Hamburg.
Related Articles
A Cloud-Based Modelling Software Uses a New Technique to Extend the Remaining Life of GearboxesWind turbines are intended to last 20 to 30 years, depending on d