Published: 14 March 2017

14 March 2017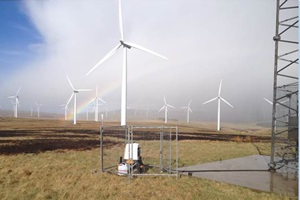 The International Electrotechnical Commission (IEC) has published a new standard to deliver the technical basis for the acceptance of lidar measurements for wind turbine power performance testing and wind resource assessments. The release of the new standard, IEC 61400-12-1:2017, is formally allowing lidar as a supplementary or alternative measurement technique to mast-mounted cup anemometers.
ZephIR staff have been actively involved in the development of the new IEC standard. ZephIR Lidar's ground-based wind profiler, ZephIR 300, can therefore be used for formal measurement of a wind turbine's power performance characteristics. The IEC guidance now recognises the imperfect relationship between cup anemometers at hub height and full swept area of the turbine and the new guidance introduces the concept of "Rotor Equivalent Wind Speed" (REWS), which considers the impact of wind shear and wind veer on turbine power performance. This is especially relevant for ever-larger blade lengths and hub heights. The guide also covers resource assessment measurements for forecasting annual energy production, following the increased use of lidar by the wind industry offshore and onshore. There is an increasing number of offshore wind farms that have opted out of using tall masts and are instead deploying Continuous Wave (CW) lidar, as well as onshore sites all over the world moving to lidar for all stages of development and operation.