Published: 15 November 2018

15 November 2018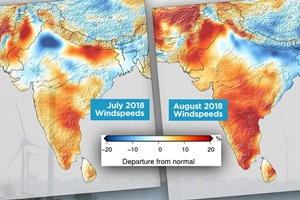 Wind speeds in India during the 2018 monsoon season were significantly higher than normal, and up to 20% higher than long-term averages in some regions, according to wind performance maps Vaisala published. These higher wind speeds will benefit wind farm production; this is welcome news for wind energy operators and investors, who have faced several years of lower-than-normal wind energy production during the monsoon period.
Because the monsoon season typically has the highest wind speeds of the year, the below-average wind resource in recent years has had a disproportionate impact on wind energy production and has caused concern in the sector.
In contrast to recent years, Vaisala's measurements and analysis of the monsoon season show that wind speeds across India were up to 20% higher than the long-term average for periods of July, August and September - with notably strong performance in key wind power producing states, Tamil Nadu and Andhra Pradesh. The increase runs counter to an observable trend over the past 20 years of declining wind speeds, and stands in sharp contrast to resource data from the monsoon season in three of the past four years, which shows that wind speeds dropped well below the historic average.
This recent change in fortune will be welcomed by renewable energy investors in India and may help adjust perceptions of wind sector underperformance at a time when many energy assets are under scrutiny by lenders. Investment in the renewables sector has slowed following the recent cancellation of several large wind and solar tenders where the bids did not achieve the benchmark ceiling tariff.
While this year's monsoon wind performance was good news for power producers, wind energy developers must still find a way to demonstrate the value of investment in their wind projects, faced with long-term variability in wind speeds.