Published: 01 September 2011

01 September 2011
On Proper Physical Modelling of Atmospheric Boundary Layer Flow over Hills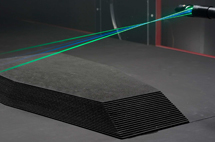 One of today's hot topics in energy policy and its economics is the reduction of uncertainties in wind resource assessment and forecasting. This article provides details of the state of the art for wind tunnel modelling for atmospheric flow over topography. Such physical modelling can be helpful in various ways. At present, numerical tools for wind energy assessment usually fail in complex terrain. Additionally, most numerical models cannot take wind gusts into account because of computational limits. So-called turbulent fluctuations of atmospheric wind speed are currently the focus of a lot of wind energy research. Better understanding of wind turbulence will help to reduce wind turbine damage and will improve wind energy production. Wind tunnel flows are able to depict turbulence effects if they are set up carefully, and are also able to test numerical models. To summarise, wind tunnel measurements can serve as a method of validating numerical models and thereby predicting data with both high spatial and time resolution.
By Graciana Petersen, Bernd Leitl and Michael Schatzmann, EWTL Environmental Wind Tunnel Laboratory, Germany

Want to read full articles? Sign up free of charge and login and read the full text of published articles on our website.