Published: 03 November 2017

03 November 2017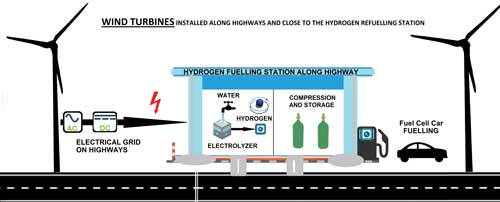 GIS Shows Us How Many Could Be Realised
For a hydrogen economy, hydrogen refuelling stations will be needed to provide fuel for vehicles. This could easily be done by retrofitting existing fuel stations. Some of these are located away from urban centres or outside populated areas. On-site wind-powered water electrolysis is a potential solution. The advantage is cost allocation, due to integration of systems with current infrastructures and effective use of energy. In order to estimate the potential of this application, GIS could be used to give us an answer on which to base further system developments. Maps containing road networks, land, wind and station data could be layered and analysed. At TU Delft, Professor Ad van Wijk and PhD student Nikolaos Chrysochoidis-Antsos are working on developing these maps and alternative wind-powered hydrogen production and refuelling concepts.
By Nikolaos Chrysochoidis-Antsos, Technical University of Delft, The Netherlands
Want to read full articles? Sign up free of charge and login and read the full text of published articles on our website.