Published: 21 January 2013

21 January 2013
Autonomous Aerial Sensors for Wind Power Meteorology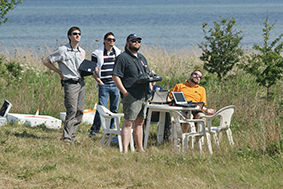 One of the areas of research that is attracting much interest within the wind power industry at the moment is site-specific meteorological observations for wind farms. The use of precise information on how a wind farm's local weather conditions correlate with more general regional forecasts, and how these conditions are reflected in the behaviour of the turbines at a specific site, has a profound effect on both the economic performance of the farm and its operations and maintenance plans. This article presents a new way of collecting this data; at first it may appear just a novel possibility, but, if successfully developed, it could prove an extremely cost-effective and reliable method.
By Gregor Giebel and Uwe Schmidt Paulsen, DTU Wind Energy, Joachim Reuder, University of Bergen, and Anders La Cour-Harbo, Aalborg University
Want to read full articles? Sign up free of charge and login and read the full text of published articles on our website.