Published: 09 November 2021

09 November 2021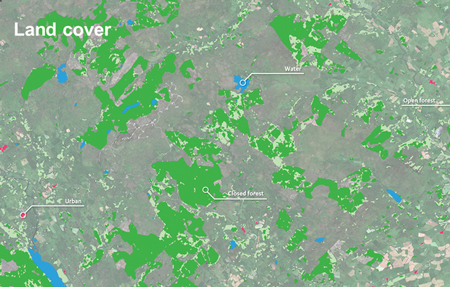 Improving the Accuracy of Wind Resource Assessments
Frictional forces due to land properties (such as terrain height and the physical structure of vegetation (height, density, etc.)) influence the strength and direction of the wind at the surface. Therefore, reliable and timely data and information on such properties is critical to accurately assess the availability of wind resources. However, assessment of wind energy resources is a highly complex and time-consuming process, ultimately relying on consistent, accurate and timely models and input data. Yet, in many cases, especially in forested sites, surface data on roughness and forest height is inaccessible or simply not available, and this may impact the ability of wind modellers to accurately assess wind resources.
By Torsten Bondo, Business Development Manager, DHI, Denmark
Want to read full articles? Sign up free of charge and login and read the full text of published articles on our website.
Related Articles
2010 was a tough year but Vestas is on track with a record-high order intake of 8,673MW. The year's order intake had a value of € 8.6 billion, corresponding to € 1 million per MW. Measured in MW, the ...Windtech International - Windtech International is the worldwide information magazine for the wind energy industry. It provides the ideal forum for the promotion and explanation of new products, techniques and applications. This trusted and well-respected source of information is read regularly by an increasing readership

Vestas inaugurates its new technology centre in Chennai, India. The centre, spread over a more than 60,000 square feet area and located at TECCIRajiv Gandhi Salai, Chennai, will house Vestas Technol ...Windtech International - Windtech International is the worldwide information magazine for the wind energy industry. It provides the ideal forum for the promotion and explanation of new products, techniques and applications. This trusted and well-respected source of information is read regularly by an increasing readership

The juwi group finished the year with record-high sales and number of employees. According to initial estimates, annual sales in its three divisions -wind, solar and bioenergy - amounted to some € ...Windtech International - Windtech International is the worldwide information magazine for the wind energy industry. It provides the ideal forum for the promotion and explanation of new products, techniques and applications. This trusted and well-respected source of information is read regularly by an increasing readership