Published: 21 January 2016

21 January 2016
Advanced Modelling Makes This Possible Without Compromising Safety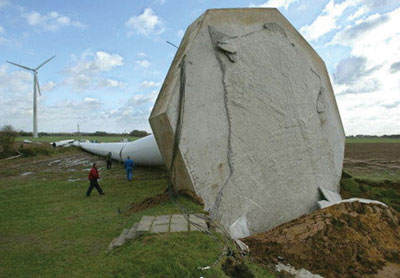 Unlike wind turbine towers and rotors, which are fabricated under controlled conditions, in general foundations must be tailor-made. This is because soil conditions (hard or soft) and available space dictate the solutions for the foundation. However, the perception is that optimisation of foundation designs leads to higher risk. Maybe due to this the average foundation designer takes a simple, conservative and conventional design approach. But a client should look at things in a different way. Saving money is one thing, saving materials and reducing CO2 emissions is another. A client should aim to have an optimised design. The skills and experience are available and have shown that substantial design optimisations are possible, without increasing risks.
By Axel Jacobs, Civil Consultant Wind Energy, ABT, The Netherlands
Want to read full articles? Sign up free of charge and login and read the full text of published articles on our website.
Related Articles
GL Garrad Hassan has launched the project FORCE (turbine optimisation FOr Reduced Cost of Energy). The project will build on GL Garrad Hassan's expertise in turbine design, control system engineering ...Windtech International - Windtech International is the worldwide information magazine for the wind energy industry. It provides the ideal forum for the promotion and explanation of new products, techniques and applications. This trusted and well-respected source of information is read regularly by an increasing readership

Oldbaum has announced the opening of a new office in Mumbai, India. Leading the office in India is Poushali Maji, Technical Lead, building on her onshore and offshore experience in Europe, Brazil, ...Windtech International - Windtech International is the worldwide information magazine for the wind energy industry. It provides the ideal forum for the promotion and explanation of new products, techniques and applications. This trusted and well-respected source of information is read regularly by an increasing readership

Wind Turbine Power Performance Analysis and OptimisationThe wind industry is striving to develop new technologies to improve the economic performance and reliability of wind turbines and wind farms. T ...Windtech International - Windtech International is the worldwide information magazine for the wind energy industry. It provides the ideal forum for the promotion and explanation of new products, techniques and applications. This trusted and well-respected source of information is read regularly by an increasing readership

Fluid Dynamics Optimisation of an Innovative Aerogenerator: PAULADuring recent years, the enormous increase in wind energy exploitation has highlighted the need for innovative conversion technologies ...Windtech International - Windtech International is the worldwide information magazine for the wind energy industry. It provides the ideal forum for the promotion and explanation of new products, techniques and applications. This trusted and well-respected source of information is read regularly by an increasing readership

What is the Affect of the Debt Crisis on Wind Energy? At the moment the world, and especially Europe, is facing a debt crisis. While the sovereign debt increases have been particularly pronounced in ...Windtech International - Windtech International is the worldwide information magazine for the wind energy industry. It provides the ideal forum for the promotion and explanation of new products, techniques and applications. This trusted and well-respected source of information is read regularly by an increasing readership

A Study of the Estimation of Wind Speeds in Wind FarmsRecent work on the optimisation and control of wind farms has mostly been based on wind speed and direction. Generally this has involved using a n ...Windtech International - Windtech International is the worldwide information magazine for the wind energy industry. It provides the ideal forum for the promotion and explanation of new products, techniques and applications. This trusted and well-respected source of information is read regularly by an increasing readership

Topology and Shape Optimisation to Speed Up Component DevelopmentThis article addresses the challenging topic of new conceptual designs for wind turbine components, which aim to ensure price competiti ...Windtech International - Windtech International is the worldwide information magazine for the wind energy industry. It provides the ideal forum for the promotion and explanation of new products, techniques and applications. This trusted and well-respected source of information is read regularly by an increasing readership

Owners and operators are under increasing pressure to reduce operational costs while improving the efficiency of their wind farm portfolios. GL Garrad Hassan has developed a new software tool to help ...Windtech International - Windtech International is the worldwide information magazine for the wind energy industry. It provides the ideal forum for the promotion and explanation of new products, techniques and applications. This trusted and well-respected source of information is read regularly by an increasing readership