Articles
Published: 15 May 2019

15 May 2019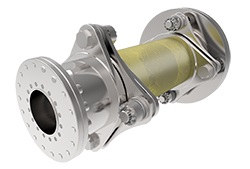 Energy producers need innovative solutions to increase wind turbine uptime and efficiency. Now there is a better way to transmit torque between the turbine gearbox and generator while protecting attached components from overload and stray currents.
By bolting durable Lovejoy® couplings to an AeroTorque WindTC™ torque control device, The Timken Company has engineered a stronger, more reliable gearbox-to-generator connection proven to reduce peak torque by up to 40% and torque oscillations by up to 70%.
The result is optimal protection for multi-megawatt turbines, helping to extend the life of critical powertrain components. This exclusive coupling arrangement integrates directly with the generator hub, includes an anti-flail feature, and uses a composite fiberglass spacer for weight and cost efficiencies.
As wind power reaches new heights, turbine availability will increasingly depend on new approaches to technical challenges.
Discover the power behind the power when you tap into Timken for next-level technologies.