Published: 05 March 2013

05 March 2013
Affordable Wind Power for Anyone Anywhere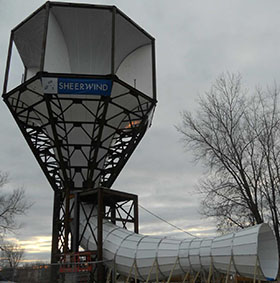 Wind power has the potential to provide affordable electrical power throughout much of the world, and there is certainly more than one way to do it. The patented revolutionary INVELOX wind technology, developed by the American company SheerWind, is providing an effective alternative to conventional propeller-driven wind-harvesting systems. In this article, Dr Daryoush Allaei notes some of the problems with conventional wind power generation and then goes on to describe how the innovative INVELOX wind technology could change the game.
Dr Daryoush Allaei, Chief Technical Officer, SheerWind, Inc.
Want to read full articles? Sign up free of charge and login and read the full text of published articles on our website.
Related Articles
 Bigger and Taller Many turbine manufacturers are focusing on increasing capacity by developing bigger turbines. Vestas, for instance, is working on its V164-8.0MW. Recently the company's test bench ...Windtech International - Windtech International is the worldwide information magazine for the wind energy industry. It provides the ideal forum for the promotion and explanation of new products, techniques and applications. This trusted and well-respected source of information is read regularly by an increasing readership