Published: 13 September 2022

13 September 2022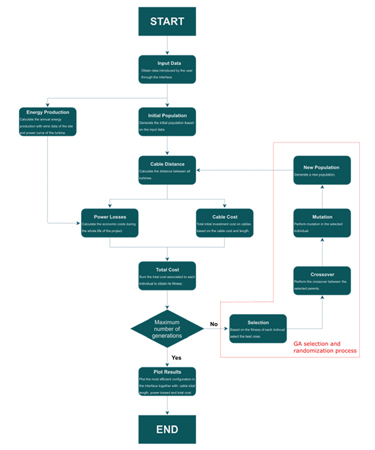 Techno-Economic Tool for the Optimisation of Offshore Wind Farms Using a Genetic Algorithm
The offshore wind industry has developed rapidly during recent years and is expected to continue expanding over the coming decades. The industry is moving forward, and bigger wind farms are being installed all over the world. Despite the increase in the number of wind farms, the initial investments and operation costs are still relatively high. Reducing the total costs associated with offshore wind farms is crucial to limit economic risks and attract new investors. One of the most notable parts of the total cost is associated with electricity exportation, which is highly influenced by the strategy defined to interconnect the turbines. With the objective of reducing these costs, this article presents a genetic-algorithm-based techno-economic tool that optimises the electric layout considering the loss of revenue due to electric losses inside the wind farm and the purchasing cost of electric cables.
By Mikel Rosell Diez, Engineer, IDOM Consulting, Engineering, Architecture, Spain
Want to read full articles? Sign up free of charge and login and read the full text of published articles on our website.