Published: 08 November 2010

08 November 2010
Stormy Weather Ahead for Intellectual Property in the Wind Industry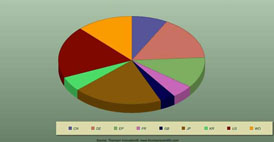 Intellectual Property (IP) rights, such as patents, trademarks and designs, have played a minor role in the wind industry in the last few decades. Companies have been developing and marketing their products more or less peacefully alongside each other. But the wind is changing. The number of active companies in the field and also international competition are constantly increasing. Patent applications have been filed at ever-increasing rates in the wind industry in recent years and IP protection is becoming an important issue for any technology oriented company in the renewable energy area. The climate has changed and the sea is getting rougher. This article provides an overview of recent developments relating to intellectual property rights in the wind industry and addresses important issues in the development of an IP portfolio.
By Dr Christoph Schreiter, 24IP Law Group, Germany

Want to read full articles? Sign up free of charge and login and read the full text of published articles on our website.