Published: 29 April 2019

29 April 2019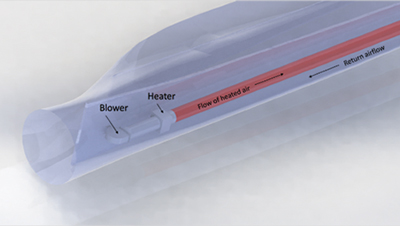 Field Validation of a Hot-Air De-icing Retrofit
Wind turbine blade icing affects 65% of wind farms worldwide. Icing results in a reduction of power production, safety hazards for site workers and the public, and the potential for increased wear and tear on turbine components. Borealis Wind has created an after-market system which can remove and prevent ice accumulation on turbine blades. Borealis has designed an internal heating system which can be installed up-tower without the use of rope-access technicians or cranes within one week and without interrupting the night-time production of the turbine. The Borealis ice protection system circulates hot air inside the blade, targeting critical locations like the leading edge and end third.
By Daniela Roeper and Dylan Baxter, Borealis Wind, Canada
Want to read full articles? Sign up free of charge and login and read the full text of published articles on our website.