Published: 28 May 2019

28 May 2019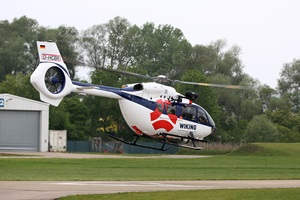 Wiking Helikopter Service took delivery of another H145 helicopter in offshore configuration. This brings the H145 fleet of the company to a total of five aircraft, after initial deliveries of two helicopters in 2016 and 2017 and two leased H145s. The helicopters of Wiking are used amongst others to transport service technicians to offshore wind farms.
The H145 in offshore configuration will be equipped with an emergency flotation system certified for Sea State 6, a weather radar, and a hoist to bring passengers directly to their target destination where potential landing by helicopter or boat would not be possible. The H145 can be equipped with seating for up to eight passengers in compliance with international offshore regulations.