Published: 28 September 2022

28 September 2022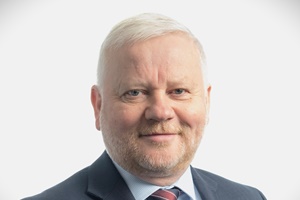 Former SSE Executive Jim Smith joins Cowi as Renewable Energy Ambassador. Jim recently retired as Managing Director of SSE Renewables and has more than 30 years' experience in several senior roles in power generation development, construction, operations and trading in the UK and Ireland's electricity industry.
Jim will fulfil this part-time role at Cowi, taking part in industry events, meeting customers, and acting as an adviser to the energy team as Cowi looks to expand the business. Before retiring from SSE, Jim was also a member of the Group Executive Committee and the Group Investment and Market Risk Committees. Chair of the SSE Renewables Executive Committee, Chair.
Related Articles
The EU has pledged to provide around € 1.9 million for the Offshore Center Danmark to be used for a new 3-year project called ECOWindS. The project will gather knowledge of installation, operation and ...Windtech International - Windtech International is the worldwide information magazine for the wind energy industry. It provides the ideal forum for the promotion and explanation of new products, techniques and applications. This trusted and well-respected source of information is read regularly by an increasing readership

COWI A/S, a Danish engineering consulting firm and it's US based marine engineering subsidiary, Ocean and Coastal Consultants (OCC) have expanded their wind energy presence in North America with the o ...Windtech International - Windtech International is the worldwide information magazine for the wind energy industry. It provides the ideal forum for the promotion and explanation of new products, techniques and applications. This trusted and well-respected source of information is read regularly by an increasing readership