Published: 12 March 2021

12 March 2021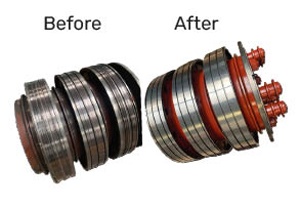 BGB has increased its repairs and servicing activities in recent years as part of its commitment to reducing waste and becoming a sustainable manufacturer. BGB has been pursuing a number of initiatives internally; with its supply chain and with end customers.
As a manufacturer of rotary solutions for the wind industry the company is investigating by-product material recovery as part of its circular economy R&D activities, as well as looking at waste streams coming out of wind farms to see whether these materials can be reintroduced back into the supply chain to be reused. Looking to the future, BGB is working to transition away from a linear take, make, use and dispose approach to products, as well as working with customers to develop alternative offerings geared towards long-life products under servitisation models. BGB offers multi-brand slip ring servicing and repair to reduce O&M costs for wind turbine operators as well as reducing their waste stream from generator brushes and other materials.