Articles
Published: 24 November 2020

24 November 2020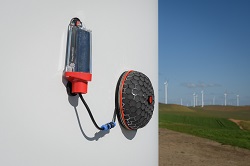 Global manufacturers, owner-operators and third-party contractors are now able to get blade health data delivered direct to their devices with break-through technology Ping Monitor.
The small, smart device, which magnetically attaches to the tower, continuously monitors wind turbines to detect blade damage and optimise inspections.
Here's how it works
Wind turbine blades have an acoustic signature. Changes in this signature are monitored and recorded, with damage to blades detected using use advanced acoustic analysis and reported in real-time.
Ping Monitor delivers less turbine downtime, therefore improving performance and efficiency, all while cutting O&M costs.
Don't fly blind anymore
The device can be ordered, delivered and installed easily, with no technical expertise needed. Ping's subscription offering and customer service team will help with all your unique needs.
Click Here
to find out more or to order your devices.