Articles
Published: 29 January 2021

29 January 2021
Just announced - New WindCube enhancements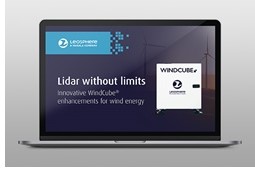 Leosphere, a Vaisala company, has unveiled powerful enhancements to the WindCube vertical profiler that increase data accuracy, operational continuity, and bankability.
Trustworthy, superior metrology
Increased range (300m) and more simultaneous measurement heights (20) enable even more accurate yield assessments and data-driven decisions.
A breakthrough hybrid wind reconstruction algorithm reduces uncertainty and enables unrivalled IEC classification. IEC classification by Deutsche WindGuard affirms best-in-class performance.
Lidar pre-validation and validation continuity options accelerate deployment and save time and money during maintenance.
Easy, reliable global solution
Unrivaled global services leverage 7 service centers and 2 factories worldwide.
Standard service now includes accelerated workshop repair in days, not weeks.
Premium service level guarantees 15-day on-site repair.
Online refresher courses keep users confident and informed.
Innovative lidars from a one-stop shop
New turnkey solutions, including a 4G modem and affordable power packs, make WindCube an even more flexible, all-in-one solution.
These advancements are driven by our passion, relentless curiosity, and desire to create a better world. Get in touch for a personal conversation about WindCube and your wind energy projects.